If you love animation as much as we do, no doubt you're looking forward to what the silver screen has to offer in 2017. Here is the complete list of animated movies slated for 2017 release in the US. Get ready to be excited!
January
Blue Dream Studios, China Film Group Corp.
January 13, 2017
Animal Crackers is the story of a family who inherits a rundown circus which turns their life upside down. The plot thickens when when they discover a mysterious box of Animal Crackers, which has the power to magically transform anyone who eats the crackers into whichever animal they've eaten. As the family's evil uncle tries to take over the circus, the family must work together to save the circus and themselves.
Monster Trucks
Paramount Animation
January 13, 2017
Tripp is a lonely high school senior hoping to escape his hometown and the life he was born into. He uses pieces of scrapped cars to build a monster truck, and finds a very unusual way to power it after he discovers a subterranean creature with a talent and taste for speed after an accident at a nearby oil-drilling site. Tripp's new friend may be the answer to escaping town and his humdrum life.
February
Warner Brothers
February 10, 2017
This Lego-ization of every live action Batman movie to date also brings back the Lego Batman we know and love from the first Lego Movie. It also features the first Lego Joker.
March
Fox, DreamWorks
March 10, 2017
This loose adaptation of a children's book sees a seven-year-old boy who is jealous of his baby brother, who is fast-talking and carries a briefcase. He sets out to win back his parents' love only to discover the evil plot of the CEO of Puppy Co., to destabilize the balance of love in the world which involves his baby brother. The boys must work together to save their family and the world.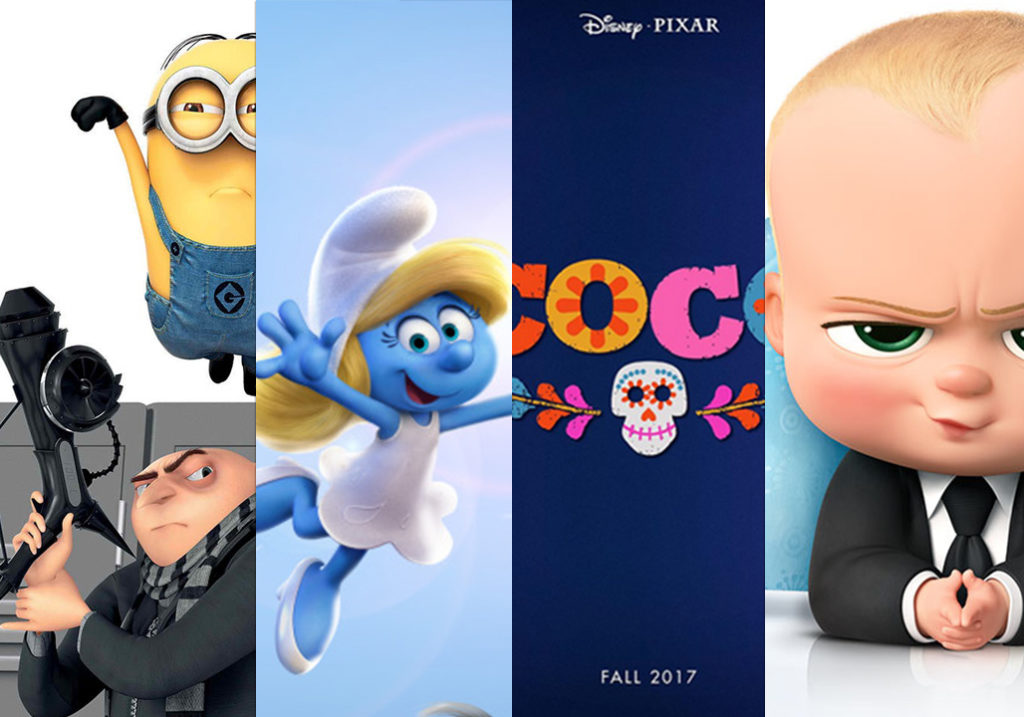 April
Columbia, Sony
April 7, 2017
In this installment of the Smurfs, Smurfette tries to find her purpose within the Smurf village. She travels to the Enchanted Forest and encounters a creature there which inspires an adventure.
May
Open Road, Gulfstream, Red Rover, ToonBox
May 19, 2017
The corrupt mayor of Oakton City is planning to bulldoze Liberty Park to put in a dangerous amusement park. It's up to Surly and the park animals to work together to stop him.
June
Fox, DreamWorks
June 2, 2017
Two fourth graders, George Beard and Harold Hutchins, find that things aren't what they expected when Captain Underpants, their favorite superhero, magically comes to life and jumps out of the pages of a comic book. The situation quickly gets crazy as the boys' power-mad principal Mr. Krupp, who transforms into Captain Underpants each time he hears fingers snapping, fights the dreaded super-villain, Professor Poopypants.
Disney, Pixar
June 16, 2017
In the latest of the Cars movies Lightning McQueen has become a veteran on the racing circuit. He races all over the United States with his new friend, Cruz Ramirez, despite the presence of his new enemy, Jackson Storm. Of course Ramone, Sally, and Mater are also back for more.
Universal, Illumination
June 30, 2017
In this sequel, Felonious Gru along with his children, Agnes, Edith, and Margo, and his wife Lucy, return with their host of Minions. Gru's long-lost twin brother, Dru, also plays a role in the plot, as Balthazar Bratt, a former child star from the 1980s, who is obsessed with his old character, launches a plot.
July
nothing set as yet
August
Columbia, Sony
August 11, 2017
This movie tells the story of Gene, an emoji inside a texting app on a teenager's smartphone. Gene is different because unlike other emojis who have only one expression, he has endless expressions; Gene is worried about fitting in, being normal, disappointing his family, and getting deleted; he goes on an app-filled adventure to find his way.
Huayi Brothers Media, Open Road Films
August 25, 2017
Hank is a scrappy young dog who dreams of becoming a samurai. He must fight to save the town of Kakamucho from evil feline warlord Ika Chu who wants to use the town as a litter box.
September
Warner Bros
September 22, 2017
Ninjago tells the story of six young ninjas. Their duty is to defend Ninjago, their island home. At night they fight monsters and villains using amazing vehicles and their warrior talents, but during the day they face their greatest foe: high school.
October
Lionsgate, Allspark
October 6, 2017
Ponyville is threatened, so the "Mane 6"—Applejack, Fluttershy, Pinkie Pie, Rainbow Dash, Rarity, and Twilight Sparkle—leave Equestria. Along the way they tackle new challenges and meet new friends.
November
Disney, Pixar
November 22, 2017
Coco is the celebration of a lifetime, based on Dia de los Muertos (Day of the Dead). This celebrations and remembrance of family and friends leads to the discovery of a generations-old mystery and a surprising and extraordinary family reunion.
December
Sony Animation
December 8, 2017
In this take on the Christian story of the first Christmas, a small but brave donkey and his animal friends are the unsung heroes.
Fox, Blue Sky
December 22, 2017
Based on the classic children's book, this is the story of Ferdinand, a quiet little bull who doesn't want to jump around and butt heads with other bulls, and instead prefers sitting quietly and smelling the flowers. He is chosen mistakenly for the bullfights in Madrid one day and his adventure ensues.
Conclusion
It looks like a great year in animated features is right around the corner. While many of these features are the latest installment in franchises, many are also originals or new adaptations of classic stories. The bottom line is that there's going to be something animated for everyone in 2017.