True movie aficionados pay attention to movie scores. Great scoring takes the best movies and transforms them into perennial classics—the films that stay with you for life. Everyone has their favorites, and it wasn't easy to narrow it down, but here are our favorite movie scores, decade by decade.
1930s
King Kong (1933)
Max Steiner
The director of King Kong, Merian C. Cooper, paid for this music out of his own pocket because he knew how important it would be to the movie; RKO refused to pay for it because it was facing bankruptcy. He made the right call, because the score was an emotionally evocative masterpiece.
The Bride of Frankenstein (1935)
Franz Waxman
This score was so successful that the studio recycled pieces of it into other films for decades.
Modern Times (1936)
Charlie Chaplin
Modern Times was every bit the creation of Charlie Chaplin, right down to the score which he composed. Chaplin was a musician in his own right, playing both the piano and violin by ear.
Gone With the Wind (1939)
Max Steiner
Gone With the Wind was one of twelve movies Max Steiner scored in 1939, and it was one of his most successful of all time.
1940s
Rebecca (1940)
Franz Waxman
Although Franz Waxman scored 144 Hollywood movies, he always called this one his favorite. Its Gothic theme influenced not only his later work, but the work of other composers.
Citizen Kane (1941)
Bernard Herrmann
This score incorporates numerous styles and elements seamlessly, from massive, sweeping orchestral passages to ragtime, and from a romantic waltz to an opera composed just for the film.
Casablanca (1942)
Max Steiner
Weaving between the diegetic music of Rick's nightclub, patriotic music from various countries expressing political conflicts, and the moody, plaintive orchestral passages that reflect the lost love between Rick and Ilsa, this score is a masterwork.
Double Indemnity (1944)
Miklós Rózsa
This score is what film noir sounds like, period.
Spellbound (1945)
Miklós Rózsa
This score is filled with suspense and romance, just like the movie. Alternating between eerie and dreamy, it keeps you on edge, just like the film itself.
1950s
Sunset Boulevard (1950)
Franz Waxman
This score blends the cynical, hipster bebop sound of William Holden's character with the melodramatic, delusional insanity of Gloria Swanson's tango motif—perfect for shooting daggers with your eyes.
The Day the Earth Stood Still (1951)
Bernard Herrmann
This isn't the first use of the theremin in a film score; it's just the best and most memorable.
Godzilla (1954)
Akira Ifukube
This score makes a guy in a rubber suit stomping over toy cars feel real, and tragic to boot.
Vertigo (1958)
Bernard Herrmann
Hermann skillfully induces a feeling of vertigo with his music in this score with his hypnotic circles of major and minor thirds interrupted by dissonant tones.
1960s
Psycho (1960)
Bernard Herrmann
We all know what it means when we hear nothing but the violent shrieking of the string section: we're about to be stabbed in the shower.
The Magnificent Seven (1960)
Elmer Bernstein
This is one of the best westerns ever made, with a totally epic cast, and this score absolutely lives up to that hype. In fact, even if you went into this film knowing nothing else about it, you'd know you were in for something amazing just based on the score.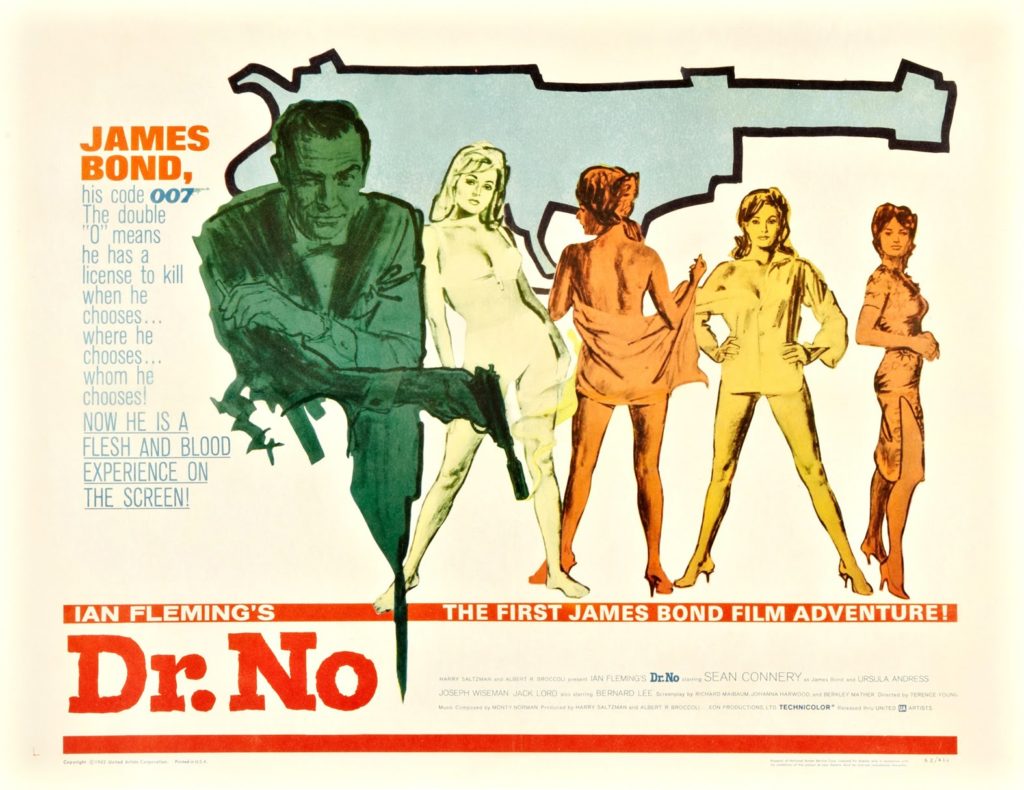 Dr. No (1962)
Monty Norman and John Barry (uncredited)
The James Bond theme is one of the most famous pieces of movie music ever, and this is where it began, right when James Bond shot us in the face for the first time.
Laurence of Arabia (1962)
Maurice Jarre
This score knows when to blast you with a total East meets West sonic boom and when to back off, leaving you to wander alone through the desert.
The Pink Panther (1964)
Henry Mancini
This epic jazz composition is loved by each new generation that hears it. It stands alone without the movie, and primed the listener for mystery, comedy, romance, whatever was coming.
The Good, the Bad, and the Ugly (1966)
Ennio Morricone
If you aren't whistling this score right now just from seeing the title, we can't be friends. Seriously, there is no cooler film score.
1970s
Super Fly (1974)
Curtis Mayfield
Sure, the movie had its problems, but the score to Super Fly was perfect. It remains one of the most seamless and successful combinations of traditional scores and pop soundtracks today, and it is funky fresh.
Jaws (1975)
John Williams
People who have never seen this movie or even heard of it know this score. Tiny little kids who have never heard of Jaws chase each other on the playground singing it. The end.
The Omen (1976)
Jerry Goldsmith
This score is 100 percent dedicated to scaring you and anyone else that hears it, and it is very, very good at what it does. Bonus points for use of a super creepy chorus singing about Satan.
Rocky (1976)
Bill Conti
No child who was alive in the 1970s didn't hear this score in his or her mind whenever facing a daunting challenge, from standing up to a bully to cleaning his or her room. Not even one.
Star Wars (1977)
John Williams
We hate it when we feel obligated to include something, but we kind of do. This is probably one of the best known and loved scores ever.
Halloween (1977)
John Carpenter
Sometimes keeping it simple really is best, and this was one of those times. This simple theme is still one of the scariest out there, and it matches the film perfectly.
1980s
Chariots of Fire (1981)
Vangelis
Have you seen this movie? Chances are that even if you have, you don't remember anything but this theme. Psychologists call this the "Chariots of Fire Effect." (We made that last part up.) Seriously though, this score is inspiring and relaxing at the same time.
E.T. (1982)
John Williams
This is one of the most hopeful, beautiful scores ever composed. You'll need it, too, if you want to get through those depressing scenes where E.T. is all sick and pale.
The Terminator (1984)
Brad Friedel
You can hear that da-dum, da-dum, da-dum right now, can't you. That's the sound of killer cyborgs coming after you, unfortunately.
Aliens (1986)
James Horner
We dare you to listen to this score and not say "bug hunt" or "game over!" Can't be done. This score still gets sampled in trailers regularly and when it came out brought a whole new level of creepy to the screen in all of the best ways.
The Last Emperor (1987)
Ryûichi Sakamoto, David Byrne, and Cong Su
This is a truly majestic score, sweeping and grand, and as much a part of the story as any other part of the film.
Batman (1989)
Danny Elfman
This score helped Tim Burton take the character of Batman from the campy television version portrayed by Adam West and transform him into the more serious Batman we know and love today.
1990s
The Silence of the Lambs (1991)
Howard Shore
The relentlessly intense and dark mood of this film owes a significant debt to this score. It's not in your face memorable; it just lurks in the shadows casting a pall on things and making you feel nervous.
The Last of the Mohicans (1992)
Trevor Jones and Randy Edelman
This moving, epic score was actually composed by two people working separately; Trevor Jones left the production before it was over and was replaced by Randy Edelman. Even so, the score is not just coherent, but adept, capturing the dramatic themes of the classic tale with expert precision.
Schindler's List (1993)
John Williams
Although John Williams is all over this list (and any list of great film scores) this may be his most emotionally moving work.
Mission Impossible (1996)
Danny Elfman
To be fair, Danny Elfman had an advantage here: the original Mission: Impossible theme written by Lalo Schifrin is amazing all by itself. Still, this score is filled with energy and movement just like the film.
2000s
Crouching Tiger, Hidden Dragon (2000)
Tan Dun
From the opening strains of Yo Yo Ma's cello to the exotic sounds of traditional instruments throughout, this score is deep, rich, and multilayered.
Lord of the Rings Trilogy (2001-2004)
Howard Shore
As good as this trilogy was all around, this score doesn't disappoint, and lives up to the rest of the trilogy's reputation. Shore absolutely nailed every character and every theme.
Brick (2005)
Nathan Johnson
You may not have seen this movie, but even if you never see it, listen to this score. (And by the way, see it.) This neo-noir high school mystery is one of the most amazing films from this decade by far, and this score was a huge part of that success.
2010s
The Social Network (2010)
Trent Reznor and Atticus Ross
This score is so tense and dark. It couldn't have been better, and it really stands out among other work of its time.
Gravity (2013)
Steven Price
The mood this score creates is ideal for getting stranded in space and lost in thought—just what the doctor ordered for this film. Part score, part sound effects, it has an almost diegetic feel at times, giving it a really immersive feel.
Conclusion
There you have it, our favorite movie scores of all time, decade by decade. The best part about lists like these is that they're never really complete. Amazing scores are going to keep coming out, and we can't wait to hear them.